Lightech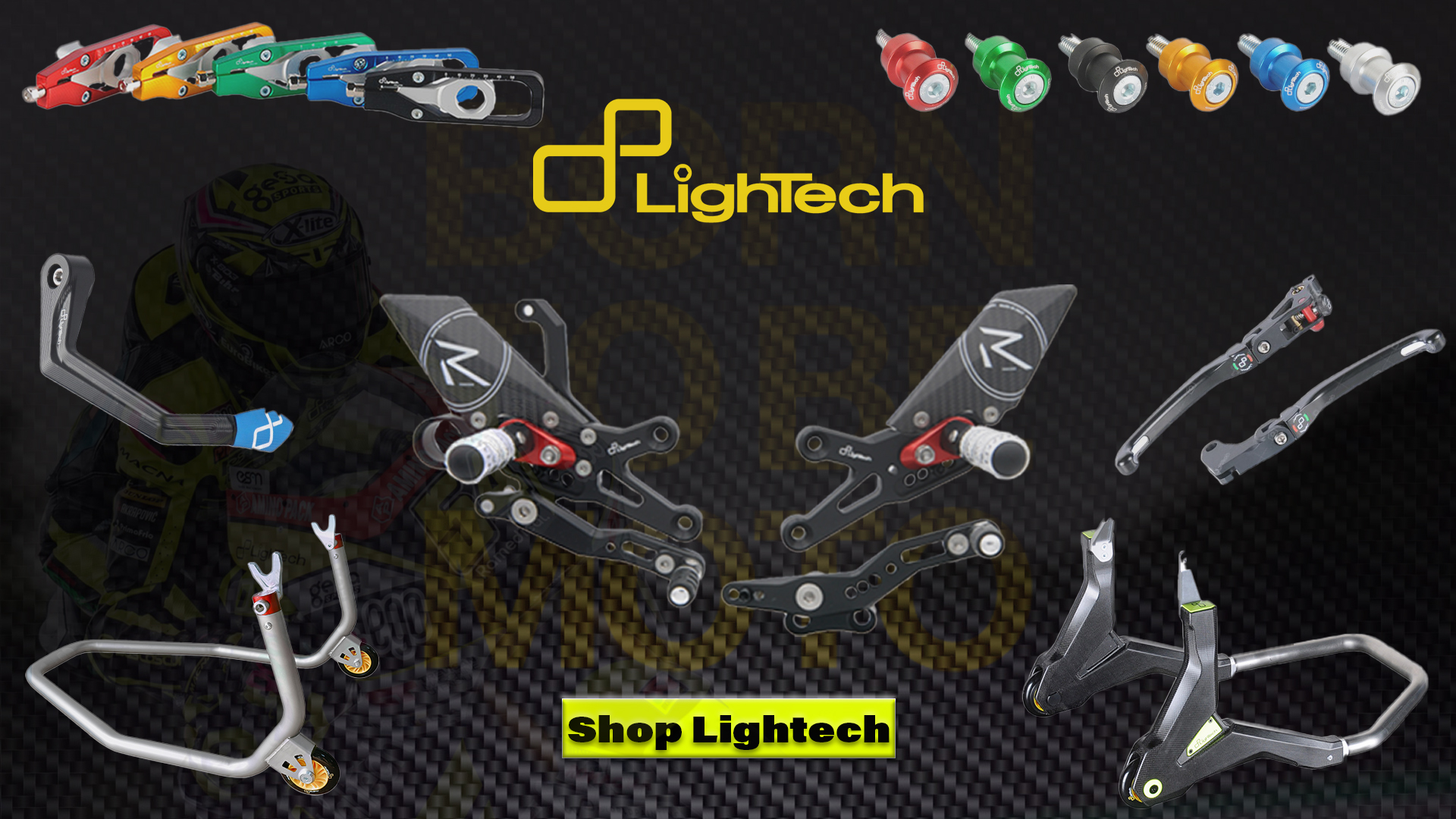 LighTech is the market-leading manufacturer of Italian motorcycle race components, providing performance parts and technical support to top motorcycle race teams in MotoGP, Moto2, Moto3, WSBK, British Superbike and MotoAmerica. Lightech also provides club racers and track day riders with the same professional-grade technology as the top teams, from rearsets to levers, chain adjusters, and paddock stands. They offer a wide range of premium products that will help you build the bike of your dreams!

Functional Jewelry for your bike
LighTech manufactures and distributes over 7,000 ergal products that are manufactured in many different colors, and over 400 titanium products. Not only are LighTech products precisely functional, they are incredibly beautiful. LighTech spends an inordinate amount of time ensuring that their colored metal products integrate seamlessly with your bike's factory colors, so in addition to dramatically enhancing your riding experience, they also provide an OEM look. Product categories include:
Rearsets Kits
Chain Adjuster Kits
Carbon fibre Parts
Brake & Clutch Levers
Handlebar Accessories
Fuel & Oil Filler Caps
Crash Protection
Reservoir Covers
Indicators / Turn Signals
Paddock Stands
Much more...
More about Lightech
In 1997, Fabrizio Furlan created LighTech to bring his family's manufacturing expertise to the exciting world of motorcycle racing.

Working closely with elite teams in the World Superbike Championship, Moto GP, 125 GP and Moto 2GP has allowed LighTech to become a leader of technologically advanced motorcycle performance parts and accessories.

Today, the LighTech factory houses 2,500 square meters of which 1,400 dedicated to production with sophisticated computer-numeric-control (CNC) machines, 600 to storage area and 50 to research and development department where engineers use state-of-the-art computer-assisted design (CAD) and computer-assisted manufacturing (CAM) programs.

In addition to the main factory, LighTech has a subsidiary with a 1,600 square meter facility for producing rearsets, brake and clutch levers and license plate holders. And of course, the scope of LighTech is enormous. The LighTech catalogue contains over 7,000 Ergal
products that are manufactured in seven different colours, over 400 titanium products and a host of other accessories.

LighTech is the official Technical Partner of the SpeedUp Team for MOTO 2 .